Otis Launches "Otis ONE" IoT Service Solution for the World's Largest Elevator Service Network
Otis Launches "Otis ONE" IoT Service Solution for the World's Largest Elevator Service Network
The IoT enabled service solution that's personalizing service
SHANGHAI, May 8, 2018 -- Otis today introduced its "Otis ONE™" IoT service platform at the World Elevator Expo. Otis ONE is the company's connected elevator solution that personalizes the service experience through real-time, transparent information sharing, proactive communication tools and predictive maintenance insights. Otis, the world's leading manufacturer and maintainer of people-moving products, including elevators, escalators and moving walkways, is a unit of United Technologies Corp.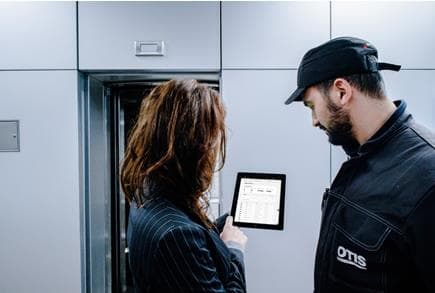 Otis ONE is Otis' connected elevator solution that personalizes the service experience
"We have been innovating since 1853, and today, Otis ONE will again advance our legacy of providing quality service to our customers in the digital economy," said Otis President Judy Marks. "Otis ONE digital tools provide real-time insights and integration with our customers' systems so we can predict issues before they happen and minimize downtime. It's about putting the latest technology and predictive equipment insights in the hands of our service professionals to enhance proactive service and strengthen our customer relationships. And it's about building a service platform that's sustainable and flexible enough to grow with the future of technology."
The Otis ONE digital platform combines Otis' more than 30 years of remote monitoring experience with the latest in cloud technology, machine learning and the internet of things to deliver customers, passengers and Otis service teams with an entirely new, connected experience to offer real-time equipment health information in addition to predictive maintenance insights.
Within this new, connected digital ecosystem, information is gathered directly from elevators and escalators via smart sensor technology. Data is then sent to the cloud where it's aggregated and analyzed, and delivered to customers and Otis' dedicated service teams, all in real-time. Otis ONE leverages data from more than 300,000 connected units to create predictive insights and a more proactive service solution for customers.
Otis customers will benefit from real-time health data about their equipment.Using the Otis ONE Campus View, they can also instantly view the entirety of their connected Otis portfolio all with the click of a button. Otis ONE enables easy access to the real-time information on equipment performance that customers need and want.
Otis ONE further enables Otis service teams to provide a faster, more efficient service experience. With Otis ONE digital insights, the platform turns customer equipment data into predictive insights so Otis teams stay ahead of potential issues – keeping equipment running and passengers safely and reliably on the move. It also means that when service is required, OTISLINE customer care can proactively contact the customer and service professionals to arrive on site with the information and parts needed to enable a faster return to service.
And for Otis customers, Otis ONE's innovative, two-way video connection between the elevator car and OTISLINE assures passengers will not be alone if help is needed.
It's intelligent connectivity that not only helps to ensure customer equipment is up and running more often – delivering a better experience for riders – but also delivers faster, more efficient service.
Otis debuted Otis ONE at the World Elevator Expo, where the company is also demonstrating elevator voice integration capability featuring Amazon's Alexa and Microsoft's Cortana.